New for 2020/2021 Season
All Snowpasses visits will be pre-booked online only.  This ensures as little contact as possible.  Just come to the ticket wicket at Laurentian Ski Hill upper chalet to have your authorization code scanned, and we will give you your ticket.
No blackout dates this year, but remember…. it's 2 visits total over the time your student is in grade 4 and/ or grade 5.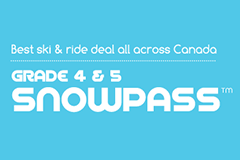 Want to ski and snowboard for FREE*?
The Canadian Ski Council's SnowPass™ lets you ski and snowboard FREE* two times (over 2 years)  at EACH  of the over 150 participating ski areas, all across Canada. There are over 30 participating ski areas alone in Ontario, including Laurentian Ski Hill.
That means you get to ski or snowboard for FREE* twice times at every one of your favourite ski areas; that's a lot of free skiing and boarding!
Requirements are simple: You need to be 9 or 10 years old or in Grade 4 or 5, living in Canada, and want to experience these great winter sports.
Beginner?
No problem, we love to teach beginners… ALL grade 4 and 5 students are welcome!
Please visit www.snowpass.ca for more information and to apply online!  Registration cannot be done at Laurentian Ski Hill
*Administration fee of $29.95 including taxes